The National Disability Insurance Scheme (NDIS) is a once-in-a-lifetime disability reform, but a report released today by the Summer Foundation and PwC shows the scheme alone cannot resolve the issue of young people living in nursing homes.
There are currently 6,192 Australians aged under 65 years who live in aged care facilities. This group is effectively excluded from society, and experience deep and persistent disadvantage. Past research by the Summer Foundation and Monash University found that 53% of young people in aged care receive a visit from a friend less than once a year. One-third (33%) never have the opportunity to participate in community-based activities such as shopping, leisure activities, or visiting friends and family.
This is a familiar story for Greg Brown. Greg was 18 years old when he was assaulted while travelling home from work on a train. He sustained a severe acquired brain injury and, after an initial acute hospital stay and a period of living back at home, Greg entered a nursing home, where he lived for over four years. He describes his experience of the nursing home as akin to a prison: eating at 5pm and having to be inside by a curfew.
Support but no housing
The NDIS, launched in July in specified sites across Australia, aims to address the underfunded, unfair and fragmented disability system.
The scheme will provide funding for support and equipment that young people living in nursing homes desperately need. One young woman, for example, is looking forward to being able to "talk" and eat again through the provision of a speech pathology assessment and communication device. Another young man is excited about receiving individual support to get out of the nursing home and go to the footy.
However, given the lack of housing alternatives for people with disability, many people will not be able move out of nursing homes in the NDIS launch sites simply because there is nowhere to move to.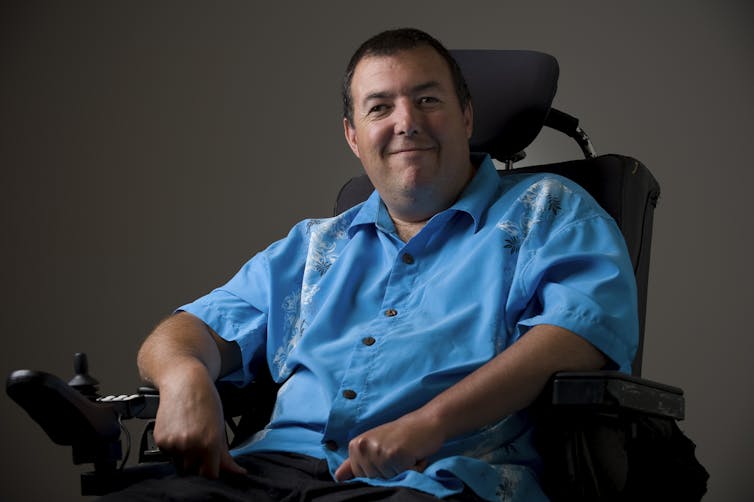 The Summer Foundation and PwC report has estimated the resources required meet the support needs of the young people living in nursing homes across the three NDIS launch sites that cover people aged under 65 years – the ACT, the Barwon region in Victoria, and the Hunter region in New South Wales.
We know that some people (such as those with degenerative neurological conditions) would prefer to remain in aged care and receive increased services, while others would choose to move out of the nursing home. So, we calculated our projections based on these preferences.
For the three NDIS launch sites, the estimated annual cost of meeting the needs of young people in aged care nursing homes in 2015/2016 is approximately A$14 million in the ACT, A$20 million in the Barwon launch site, and A$29 million in the Hunter region.
When the cost of young people remaining living in aged care (A$90k per person per year) is taken into account, the net difference is an additional A$8 million in the ACT, A$11.2 million in the Barwon region and A$15.9 million in the Hunter region.
Meeting the housing need
Housing for people with disability is still the responsibility of public and community housing, which needs to get ready to meet the growing housing demand that will come with the national roll-out of the NDIS.
Importantly, the community sector needs to increase the scale and range of accessible and affordable housing for people with disability. For the past 20 years, the group home has been the predominate model of housing and support for people with disability, where they are expected to live with five or more other people with a disability. But while group homes work for some people with disability, they're not for everyone.
Many young people in nursing homes acquire their disability as adults – and some have partners or are parents, so they want to live in their own homes. Rather than building segregated housing for people with disability, ideally 20% of all new public, social and private housing would have a platinum level of accessibility. Six to ten of these apartments could be peppered throughout a larger development, enabling the provision of cost-effective support for people with higher levels of disability.
Once the NDIS is fully operational, the problem will then become the dearth of accessible and affordable housing in Australia. Effective collaboration between the community housing and disability sectors could resolve the issue of young people in nursing homes in the next five years and transform the lives of people like Greg Brown, who says,
The day I moved out of the nursing home my brain was spinning a thousand miles an hour, I couldn't think of what to do first … I was so confused, but I was so happy … now I can go out when I like, and I can go where I like.

The authors do not work for, consult, own shares in or receive funding from any company or organisation that would benefit from this article, and have disclosed no relevant affiliations beyond their academic appointment.
This article first appeared on The Conversation
Subscribe to Lens
To receive a fortnightly email wrap up of stories from Lens.